Today's Time Table
Morning
Maths: Times Tables Rock Stars!!! Year 3 vs Year 4.

Literacy: Fronted adverbials
Afternoon
Reading: London Underground

Topic: London Underground history timeline
Maths
Please login to your Times Table Rock Stars account – I have set up a rock battle for Year 3 vs Year 4! This will start at 11:00am and end at 12:30pm. Only points can be scored between these times. 
Literacy
Today's literacy challenge!
Today we will be recapping our knowledge of fronted adverbials and putting these into interesting sentences about trains and train times!
Here are some slides for you to recap your knowledge and have a look at some examples:
Task: Can you write 10 different sentences using the fronted adverbial skills you have recapped on today? Remember to base your sentences around trains or train times/timetables.
For an extra challenge, could you include:
an expanded noun phrase?
the name of a famous train you know?
Reading
Our topic will be based on trains for this week! Today we will be learning more about the famous London Underground train network!
Here is a text all about the creation and history of the London Underground:
Here are some questions for you to answer about the document and the answers are below for you to mark your work: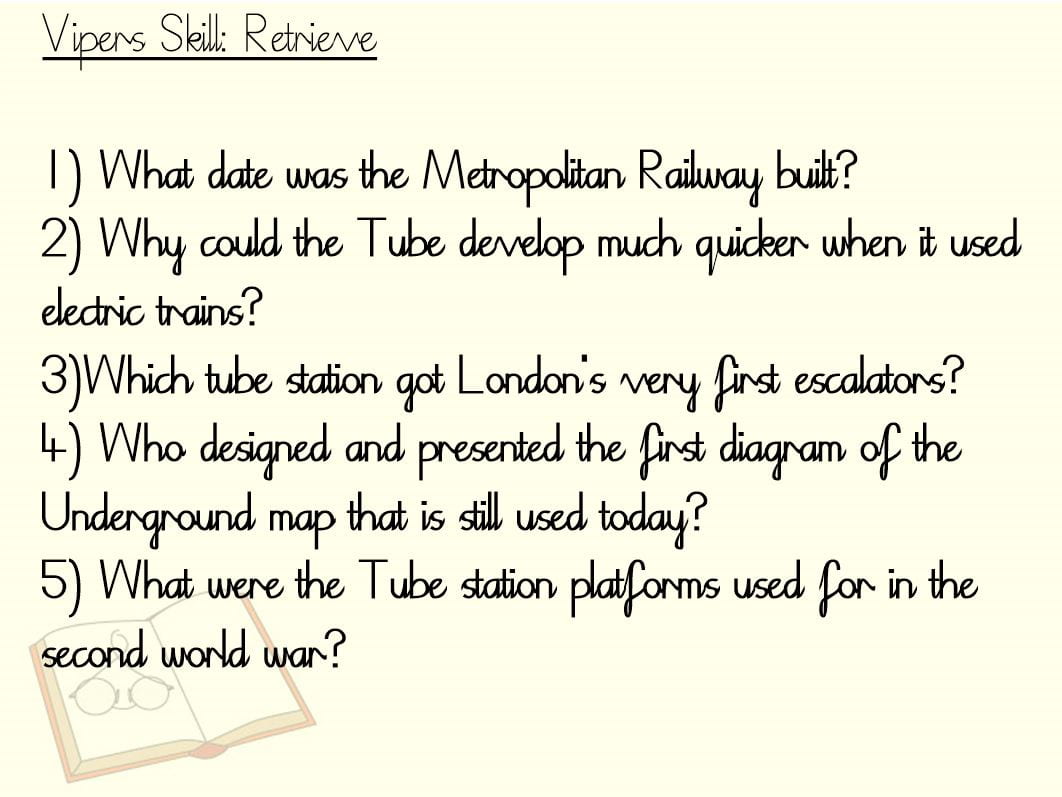 Answers:
Topic: London Underground timeline 
Now you have read about the history of the London Underground, we would like you to build upon your existing knowledge of timelines, you should have put together a timeline of cars last week. Building on this knowledge, we would like you to think about the layout of your timeline.
Which side of the timeline is going to be the earliest? Where will the latest/ most recent appear on the timeline?
Using your knowledge from the reading task, can you add certain dates and events that occurred throughout the history of the London Underground.
Don't forget to add pictures alongside your writing!
We will shares the ones we do in school