Welcome back everyone.
Remember, our TEAMS registers now start at 9:15 A.M. 
Morning
Maths: Multiply and divide by 7.
Literacy: Newspaper layout and heading.
Afternoon
Topic: Introduction to Tsunamis
Reading: Summarising tsunamis
Maths
Today's maths session is multiply and divide by 7. There is not a video for this session, I have attached the slides that you can have a look at and read through. Similar to how we go through slides in the classroom.
Please do not feel pressured into finishing everything on the sheets. Give it your best go and work through what you can. Remember, Miss Housley and I are always here to help too!
Continue to mark your work Year 4, just like we do in class! 😎
Literacy
This week, we will be writing a newspaper article.  Just like last week, we are going to add to this article, a little each day so you have less to remember for each step.
Firstly, let's look at setting up the layout of the newspaper correctly…
Today we are going to start our work on creating a newspaper based on a tsunami disaster!
Firstly, we need to look at the layout features before we move onto writing some amazing content.
Task1 :Here are some example newspapers for you to have a look at!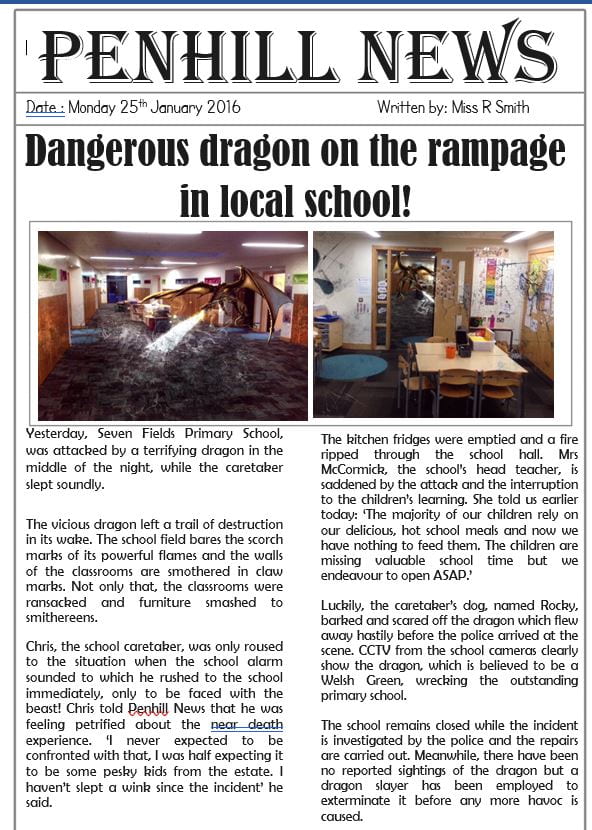 Task 2: Can you create a checklist of the main layout features you can use for your own newspaper?
This is a video of the main features Miss Housley found, and how to set up your newspaper layout:
Task 3: Can you design your newspaper layout for you to fill in throughout the week? Remember to use your checklist to help you design your newspaper and the features included!
You do not need to complete your newspaper as we will be working on a different section each day throughout the week.
Here is the link to bbc bitesize page with some quizzes on the layout features of a newspaper!
https://www.bbc.co.uk/bitesize/topics/z2yycdm/articles/z2gk9qt
Topic
Today we are starting work on a new natural disaster!
What is a Tsunami?
Here are some slides with some information about what a tsunami is and how these are caused!
Task: Can you write some instructions or a recipe for creating a perfect Tsunami?
You will write these out in your books, including all the things that make up a Tsunami. Some of these will include ingredients such as an earthquake and the sea!
Here is an example for you to magpie ideas and have a look at:
Here are some extra links to some more learning links for tsunami facts for you to explore!
https://www.bbc.co.uk/newsround/45996556
Reading
Now we have a non fiction text to go through and read below!
Here is a video going through todays reading task and a little more information on the summarise viper!
Here are the questions to answer in your book: