Literacy Powerful Adjectives 
Today we are going to explore the different powerful adjectives we can use in our writing to make it more descriptive and interesting.
This is important for our menu as we want the Grinch to choose our foods. Powerful adjectives in a menu make our food sound more yummy and appealing.
What is an adjective?
Adjectives are words that describe nouns. They can be words that describe:
Size
Colour
Material
Quantity
Shape
Here is our lesson on powerful adjectives today! Click on the video to watch Miss Housley go through the slides and the task for today.
Today's literacy task is to write some powerful adjective sentences to describe the 5 pictures below!
Can you try to extend these by including expanded noun phrases too?
If you want to extend your learning, can you think of any powerful, descriptive adjectives to describe your breakfast this morning?
Here is a page that can help you with a little more information on adjectives:
https://www.bbc.co.uk/bitesize/topics/z4hrt39/articles/zj33rwx
Maths: Equivalent lengths – m and cm
Reading
Today we are going use our Retrieve VIPERS skill answers some questions on the traditions of Christmas!
Here is a link to a page that explains the VIPERS in a little more detail if you need a recap.
https://www.literacyshedblog.com/uploads/1/2/5/7/12572836/ks2_reading_vipers.pdf
Here is the text for you to read and the questions are below: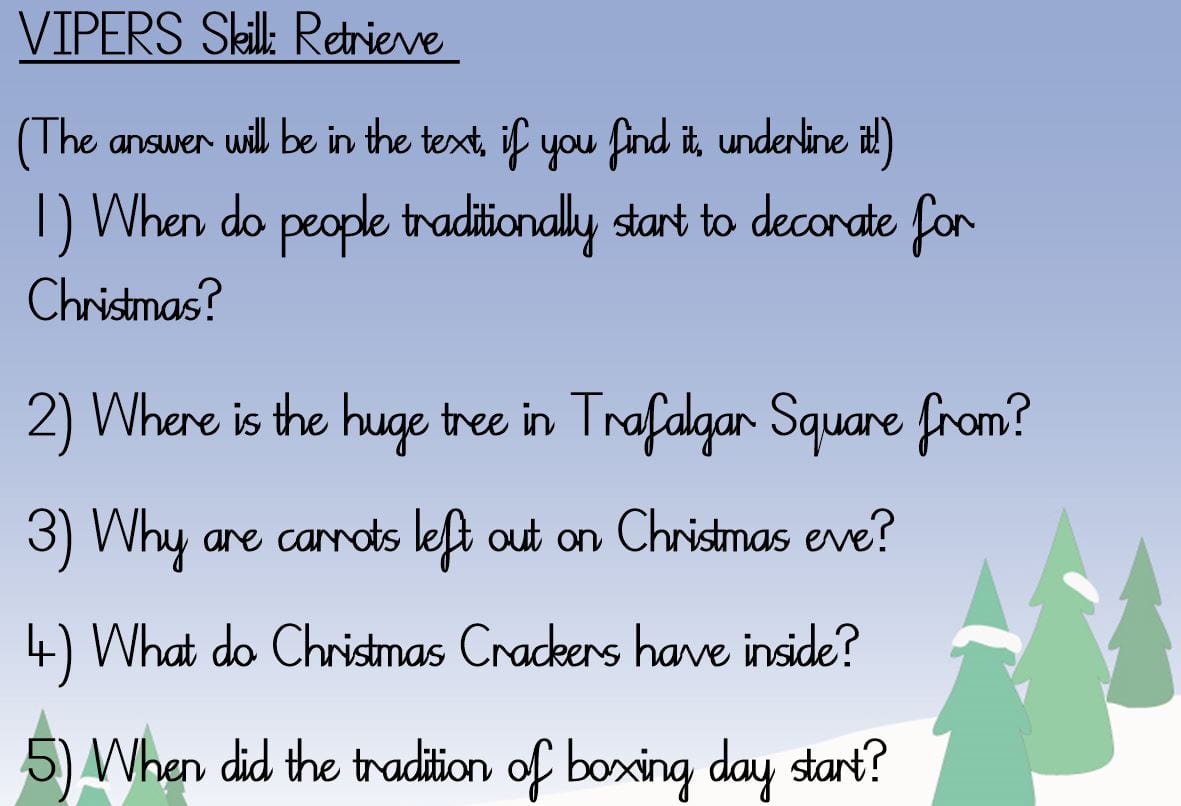 Topic/Science
To make our meal healthy and nutritious for The Grinch, we need to understand a healthy balanced diet.
The human body needs a balanced diet to work properly. Good health involves drinking enough water and eating the right amount of foods from the different food groups:
Carbohydrates give us energy. They are found in foods such as bread, potatoes and pasta.

Proteins help our bodies to repair themselves. They are found in foods such as fish, meat, nuts, seeds, eggs and cheese.

Fats help store energy for our bodies. They are found in foods such as butter, cheese and fried foods.

Fibre is important for helping us digest our foods. It's found in fruit and vegetables.
Here is a PowerPoint with lots of information on the different food groups we need to eat to keep us healthy!
Below is a worksheet to sort the different foods into a healthy meal! You could list these into the different healthy food groups or draw your own plate to sort.
Next task: Can you design a Christmas plate of healthy foods including the 5 food groups?